QHSE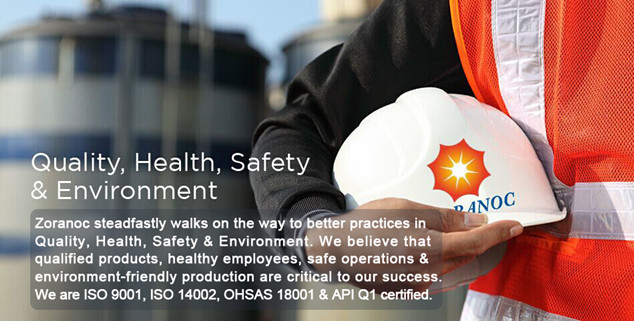 QHSE management is an important component of Zoranoc's corporate culture, which reflects how we regard and deal with the relationship with others and the world.
Quality is the foundation.If credit is the business card of a company, quality must be the capitalized bold on it. Premium product quality is the source of wide acknowledgement and customer reliance, which is the premise of stable market position and long-term development. Zoranoc has always been focusing on improving product quality and establishing permanent cooperation since the day it came into being. As one of the earliest companies committed to the R &D production of petrochemicals, Zoranoc has grown into one of the most powerful oilfield suppliers in China. Depending on outstanding products and service which are highly regarded by all customers, we have built long-term cooperation with oilfield companies in more than ten countries.
Health is the guarantee. Apparently, a healthy company must come from the healthy staff. Zoranoc pays much attention to both physical and mental health of its employees. In the workshop, everyone is required to wear appropriate protective clothes in order to prevent possible occupational injuries and diseases. In offices, greenery can be seen everywhere despite formaldehyde-free decoration materials. Besides, each member enjoys paid annual leave; and Zoranoc regularly organizes recreational activities to enhance communication among colleagues and help relieving possible work stress.
Safety comes first.As a human-oriented enterprise, Zoranoc always puts the safety of people – staff, users and any other involved - in the first place. Each team member is demanded to keep a strong safety awareness, which means everyone should be responsible for the safety of himself as well as the others. On this basis, we devotes to creating a safe environment for employees, from the plants and offices to goods delivery, and detailed safety regulations have been laid down designed for different occasions. In addition, staff members are encouraged to discover potential safety hazards and share good suggestions on our regular safety study and discussion conference.
Environment is a friend. It cannot be denied that many current industrial achievements come at the cost of environmental damage, such as water pollution, forest drop and greenhouse phenomenon. As an eco-oriented company, Zoranoc believes that everyone is obligated to protect our planet and has been contributing itself to environment-friendly production and products. The producing process is strictly controlled to meet the demand of environmental regulations, conserve energy and reduce discharges as much as possible. Meanwhile, we spend a lot on the R & D of environmentally preferable products, represented by non-silicon defoamer, FCC sulfur transfer agent and sweetening activating agent.