ABOUT ZORANOC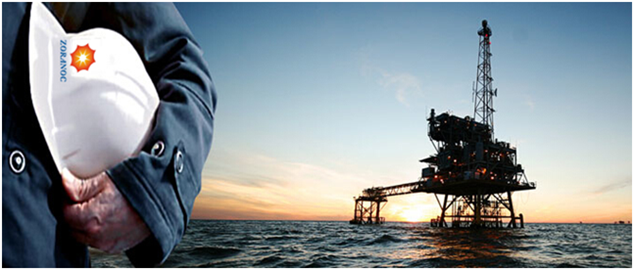 Qingdao Zoranoc Oilfield Chemical Co., Ltd. (hereafter shorted as ZORANOC) is a world leading manufacturer and supplier of oil field chemiclas, pipeline drag reducer, petroleum refining additives and oil well cementing chemicals. Since founded in 2007, the annual turnover is more than USD90, 000,000 and annual export quantity is over 250,000 tons.
Meanwhile, Zoranoc Oilfield Servises Limited (hereafter shorted as ZORANOC) is designing and manufacturing Refinery Plant Projects.Our products including atmospheric and vacuum distillation unit, catalytic cracking unit, delayed coking unit, hydrogenation unit and other sets.
ZORANOC served to the biggest Oil and Gas refinery plants in the world like TOTAL, China National Petroleum Corporation (CNPC) ,Sinopec, China National Offshore Oil Corporation (CNOOC), National Iranian Oil Drilling Company (NIDC), Kuwait Petroleum Corporation (KPC), National Petroleum of Venezuela (PDVSA), Pakistan Oil & Gas Development, Indian Oil and Natural Gas Corporation (ONGC), China National Chemical Corporation (CHEM CHINA), BAKER HUGHES (USA oil field services), General Electric (GE), NALCO, FUEL RIGHT, China Nanhai-Magcobar and etc.
Our headquarter, Cangzhou Xinchang Chemical Corporation (hereafter shorted as Xinchang Chemical), is located in Cangzhou City, Hebei Province, and its predecessor was Hebei Oilfield Chemical Plant (founded in 1993), a member of Sinopec Group, then restructured to a corporate enterprise, renamed as Cangzhou Xinchang Chemical Corporation. On the original basis of Sinopec, Xinchang Chemical continuously adjusted development strategies, got rid of the stale, brought forth the fresh, researched and developed high-end petrochemicals from a high starting point, and collaborated with Shenyang Chemical University, Sinopec Petrochemical Academy of Sciences and Tsinghua University in R&D and technology upgrading of its products. Two independent research institutes have been established in Shenyang and Hebei, and a doctoral station, established at the same time, is now under operation.
Xinchang Chemical purchased 5 chemical companies in the year of 2016 to make up a group company, and was officially listed in stock market in 2016. Stock Code is 837320. ZORANOC is a subsidiary of Xinchang Chemcal, with commitment to the supply of comprehensive professional products and technologies in domestic and international markets to the world's big oilfield enterprises, oil service companies and petrochemical distributors.
Since 2004, Xinchang Chemical has been authorized as a net-in supplier by China Petrochemical Corporation (Sinopec Group) and China National Petroleum Corporation (CNPC) and a contracted partner of China National Offshore Oil Corporation (CNOOC). Xinchang Chemical was certified by ISO9001 and ISO240001 in January, 2012 and in 2014, it became a member of American Petroleum Institute (API), and awarded by API with the API Q1 Production Certificate, also gained the ISO9001, ISO14002 (specialized for Oil&Gas industry) and OHSAS 18001 Certifications. All these certificates and membership ensure the stable improvements in our products quality and services.
As a global leading supplier of petrochemicals and oilfield service, we have advanced laboratories and professional R&D personnel, independently supply customers with technical solutions and customized products. We have 500 excellent employees, and all our work through design, preparation, tests to production, benefits from our highly skilled employees.
ZORANOC's products include four categories: Oil Field Chemicals, Drag Reducer, Oil Well Cementing Chemicals and Petroleum Refining Additives.
ZORANOC is one of the earliest companies committed to the R&D and production of oilfield chemicals, and through cooperation with customers, now we can produce any drilling fluid for all oilfields, and solve many problems arising from the drilling process, so we have been one of the most powerful oilfield suppliers in China, with our service going in every stage in R&D and production of both onshore and offshore oilfields, mainly including drilling, oilfield technique and oil-water separation. Also as a technology service company with high standards, we give more attention to production facilities, as we have advanced high pressure reactor, pressing separator, gas chromatograph, high performance liquid chromatography and Brookfield Viscometer, etc. Depending on premium products and service, we have built long-term cooperation with oilfield companies in more than 10 countries such as Iran, UAE, Kuwait, USA, Russia, Indonesia and Belarus, including NIDC, PDVSA, ONGC, BELORUSNEFT and PERTAMINA. We have been highly regarded by all our customers. Meanwhile, we have deep cooperation in oil field chemicals, drag reducer and oil well cementing additives with the four large oilfield service companies (Schlumberger, Baker Hughes, Halliburton and Weatherford).
As the largest manufacturer of oilfield chemicals in China, we always insist in the highest quality, health, safety and environment-protection standards, and are dedicated in supplying first-class and premium service, and insisting on safety management principles of "Prevention first, People-oriented", and we focus on customers and carry on the quality management philosophy of "Credit First, Users First"; and in our service and production, we sufficiently use process-control methods to guarantee the quality of products and service and to satisfy customers; we track the developing trend of markets and customer demands, as to supply customers with safe, premium, low-consumption and highly efficient service. All of this is ZORANOC.
Our email: info@zoranoc.com
Pleas feel free to contact us.